В начало
»
Internet
»
Web Authoring Tools
WordRecovery
WordRecovery fixes corrupted Microsoft Word document files. Supports all modern file versions, including Word XP, Word 2000, Word 97, Word 95 and Word 6.0 documents. Recovers text. Restores formatting. Recovers password-protected files.



StyleSkin
Styleskin is a dedicated template driven interface designer which allows anyone to easily design their own graphics. All you have to do is draw the shape/s, choose (or import) a texture and color you would like and click the render button.



Webdata Pro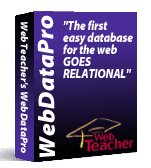 Easily create relational databases online. Interface provides the admin a point-and-click path through: building tables; designing search pages, reports and forms; managing records; and defining member accounts. Customize w/ any HTML editor.



WireFusion Professional
WireFusion is a professional authoring tool for interactive plugin-free Web3D presentations. Flash is supported and can be combined with 3D models. Add-ons for MPEG video, MP3 sound, Zoom function and more are available.



XStandard XHTML WYSIWYG Editor
The leading, standards-compliant plug-in XHTML WYSIWYG editor for Windows and browser-based (IE / Firefox) content management systems. Multilingual, fully customizable. Generates clean XHTML Strict or 1.1 markup. Uses CSS. Lite version is free.



MM Player Pro
MM Player is a media player targeted at professionals. It introduces powerful play and error log files. It can be remotely controlled using the Inte. It introduces powerful play and error log files. It can be remotely controlled using the Internet.



AllWebMenus LITE
Create any cross-browser,popup or drop-down menu with AllWebMenus,the dhtml menu / javascript menu builder that requires absolutely no DHTML/Javascript experience from you! Menus are fully-featured and easily linked to your web pages in only seconds!



3D Button Visual Editor
WYSIWYG application that allows the user to create 3D outstanding buttons for use with web sites and stand alone applications requiring a more effective look. Easy creation of button collections and navigation bars.



AllWebMenus Pro
Create cross-browser, popup, horizontal or drop-down menus,the dhtml/javascript menu builder that requires absolutely no dhtml/Javascript experience from you! Menus are fully-featured and easily linked to your web pages in only seconds!





Страницы:

1